I admit it: I am a sustainability nerd.  Instead of shopping during my one free afternoon in Shanghai, I instead toured its Urban Planning Exhibition Center. Chinese celebrate urbanization—how refreshing—so most Chinese cities have similar exhibits. This one teemed with elementary school age children, studious college students, aspiring Chinese planners, and few curious westerners—many of us were taking notes!
Humanity's battle for sustainable development will be won or lost in our cities.  More than 70% of us will be urban by 2050, because that is where wealth, health, and opportunity are found.  We will double our urban infrastructure between now and then, creating a tremendous opportunity for sustainable development.
Shanghai "gets it."  They understand the latest and greatest urban planning theory, green-building techniques, smart-growth, transit-oriented-development, green-infrastructure, and low-impact-development.  They have clearly stated, top-down authority to pursue these practices as evidenced in the following statement at an exhibit on the third floor titled "Ecological City"
"Shanghai …will put into practice the Scientific Outlook on Development, focus on innovation driven transformation and development, and firmly embrace the concept of development led by ecological civilization and optimized by environmental protection. Through implementing the pollution reduction missions of the 3-year environmental action plans, with the highlights of total pollution load reduction, quality improvement, risk prevention, and development optimization, Shanghai will continuously strengthen environmental protection and ecological conservation, accelerate the creation of resource conservative and environmentally friendly city, and promote the green growth and low-carbon development for the harmony between human and nature. … By 2020, a clean, safe, and healthy ecological environment will be basically realized in the city. A low carbon development path suitable for a mega-city will be created. The environment foundation favorable for building the well-off society in an all-around way will be established."
Even more impressive (to me) was an exhibit on the fourth floor that humanized and personalized the goals and motivations of ecological urbanization for sustainable development. It contained silhouettes of a family, each figure with text describing the family member's dreams of living in an ecologically-oriented urban future. I took a picture of the girl, below.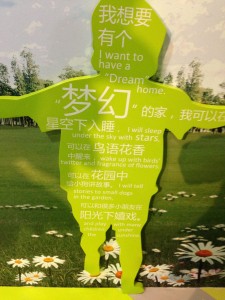 The text reads:
"I want to have a 'dream home.'  I will sleep under the sky with stars, wake up with bird twitter and fragrance of flowers. I will tell stories to small dogs in the garden and play with many children under the sunshine"
This strategic appeal to family values paints an attractive image for people currently living in a smog-filled, light-polluted, crowd-filled, city of 25 million people with scarce habitat for birds or dogs.
What made me cry?
China clearly gets it. They understand that urbanization is the secret sauce of sustainable development and are relocating an eye-popping 30 million people a year from farms to cities.  They have the political power and technocratic chops to do it right. They are not hamstrung by the political polarization and petty bickering that block smart growth in most US communities. They have the money, the knowhow, and the motivation.  And they have cool museums celebrating this possible future.
But can they do it?  If they can't, it probably can't be done—anywhere, which means we're in trouble (at best it means our future will be considerably less wealthy, healthy, and happy).